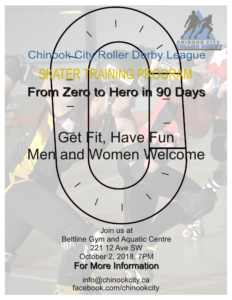 Are you interested in Roller Derby? Looking for a fun way to stay active?
Join us on October 2, 2018 from 7:00pm – 9:00pm at the Beltline Gym and Aquatic Centre (221 – 12 Ave SW, Calgary, AB) to find out more about opportunities with our league. Strap on some skates, get your roll on, and learn how to get involved in this fast paced, super fun sport!
Chinook City Roller Derby plays competitive men's and women's Roller Derby in a fun, athletic, and inclusive team environment. We're looking for new skaters! No experience necessary: our training program will teach how to skate and, more importantly, how to excel at the sport of roller derby!
This session is free, with no obligations! Check out the facebook event for more details and RSVP here!