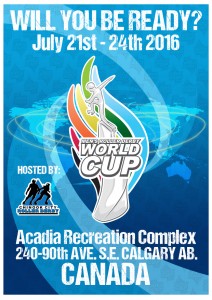 We have won the bid to host the second Men's Roller Derby World Cup right here in Calgary, Alberta and we are very excited to be hosting!
The 2016 Men's Roller Derby World Cup takes place July 21-24, 2016 at the Acadia Recreation Complex in southwest Calgary. Twenty men's teams from around the world, comprised of the world's best male skaters, will descend on Calgary to compete for the World Cup.
This World Cup will be second World Cup competition for men's roller derby (the first took place in Birmingham, England, in 2014). Team USA, Team England and Team Canada placed first, second and third respectively out of a 16 team field at this event.
Early bird tickets for the 2016 Men's Roller Derby World Cup go on sale July 14, 2015.
Follow the tournament on Facebook and Twitter, the MRDWC website or right here on our website for details as they are announced.