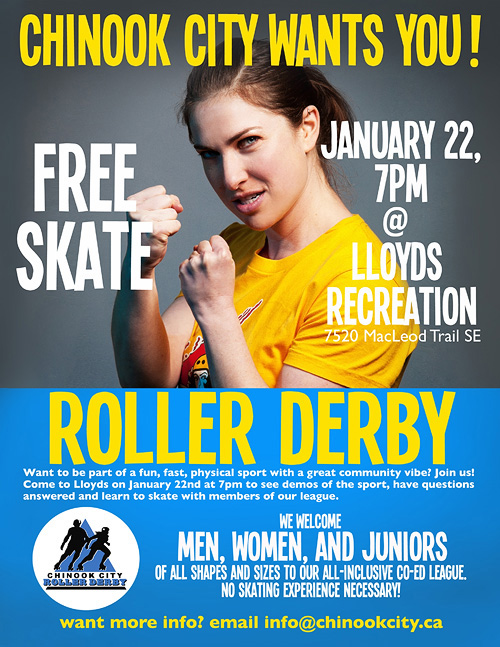 It's a new year – are you looking for a new challenge? Get involved in the growing phenomenon of roller derby! On January 22nd at 7:00pm, Chinook City will be offering an on-skates info night at Lloyd's Recreation! This info night will give you a taste of what this sport is all about: fun, fitness, and friendship. Don't have roller skates? That's okay! You can borrow a pair for the evening.
Chinook City skaters will provide a short derby demonstration, and then will be on hand to teach the basics of roller skating and answer questions about derby. Get tips and learn tricks from members of the Kill Jills, the Glenmore Reservoir Dogs, the Natural Born Thrillers and the Youthanizers. Then hang out, skate to some sweet tunes, and watch roller derby bouts on the big screen tv. It's going to be a blast.
No experience necessary, and all fitness levels, ages, and genders are welcome. Our league includes men's, women's, co-ed, and junior derby – it's really a sport for everyone.
Give roller derby a shot. We double dog dare you!