Chinook City Roller Derby (CCRD) is a Calgary non-profit association dedicated to learning, playing, and promoting co-ed roller derby in a skater owned and operated team atmosphere.
Roller Derby is a sport based on the principles of community, sportsmanship, and competition driven by volunteerism; all aspects of league formation and operation are organized by team members for team members on a purely volunteer basis.
Since our formation in early 2011, CCRD has grown to approximately 75 members. League members are deeply committed to both our sport and our community. We actively promote diversity and inclusiveness, participating in events throughout Calgary including the Calgary Stampede Parade, Calgary Comic & Entertainment Expo, Calgary Men's Expo and Calgary Pride Parade.
Chinook City Roller Derby League's primary goals are to promote, learn, and play roller derby in a skater owned and operated league against other like minded leagues. We promote roller derby for junior and senior men and women, welcoming all aspiring skaters to our fresh meat program as well as all qualified and insured skaters to the open practices and co-ed scrimmages we hold. We play roller derby to the most current WFTDA rule set on a standard size track and use training methods used within the roller derby community.
We seek to recruit individuals who have the drive, desire, and competitive nature required to advance the sport of Roller Derby. We aim to teach you all we know about roller derby, and hope you'll teach us about this great sport in kind.
Flat Track Roller Derby is the next generation of the 1970's sport of roller derby. It is a high speed full contact team sport which requires skating skill, strategy and a high level of athletic ability. It can be played on any flat surface which is suitable for skating and is approximately 90′ by 135′ is size. This includes hockey rinks, most basketball courts, some parking lots, large warehouses and even retasked aircraft hangers. The DIY nature allows any group of skates to start a league, learn about roller derby, practise, and start playing.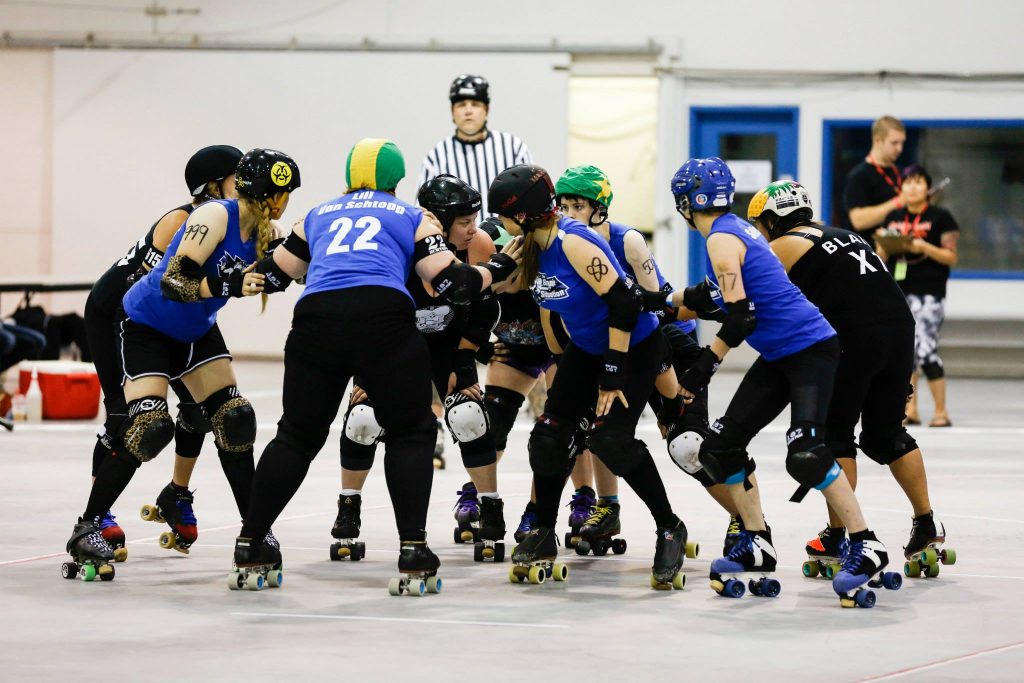 To play roller derby, each team fields 4 blockers and one jammer (who scores the points). On the whistle the skaters start moving and blocking. After an initial pass to establish lead jammer (who has the privileged of calling off the jam) the jammers try to pass as many opposing blockers as possible to score as many points as possible.
Players are not allowed to make illegal contact with the opposing team. Illegal contact includes elbows, use of forearms/hands, low blocking, back blocking, blocking with the head or contact above the shoulders. Players must also attempt to stay inbounds during the jam and may not use the out-of-bounds area to pass other skaters (called "cutting" the track).
Check out this amazing video (courtesy of the WFTDA) about the basics of Flat Track Roller Derby.
For more information about Flat Track Roller Derby, check out
WFTDA.com
!
Our Board of Directors are:
President: Leon Bellavance (Flustercluck)
Vice President:
Secretary: Keith Guinn (Justice Bastacrash)
Treasurer: Jacqueline Boniface (Mad Madame Mim)
Director at Large:
Director at Large: Cendrine Tolomio (Thorgasm)
Director at Large: Erin Lindsay (Delirium)